MATT2
Date:
25 Jan 2010
-
5 Feb 2010
Unit:
Public Sector Capacity Building
Introduction
Public administration reform, performance management, and service delivery are continuing necessity in every society. Administration reform leads to a consciously planned activity of controlling the public administration of the country to meet its objectives proficiently. Read more »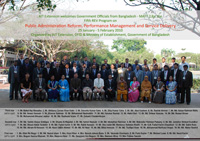 AIT Extension, in conjunction with the Department for International Development (DFID) and Ministry of Establishment, Government of the People's Republic of Bangladesh is very proud to have hosted a 43-member delegation of senior officials from Bangladesh for a specialized 2 weeks program on "Public Administration Reform, Performance Management and Service Delivery" (25 Jan – 5 Feb, 2010). This Regional Exposure Visit (REV) followed the completion of 5th similar REV programs developed for the Bangladeshi Senior Civil Administrators under the program called Managing At The Top 2 (MATT2). We are confident that this training will provide substantive benefits to the clients of these Civil Administrators.
For Course detail Click here Read more »