Rowena Alcoba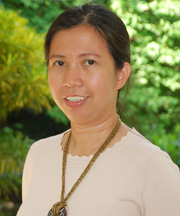 Position:
Senior Program Officer
Department:
Development Management
Mrs. Rowena Alcoba is Senior Program Officer in the Development Management Unit of the AIT Extension. In this capacity, she is responsible in the coordination and management of trainings and continuing professional education programs in the areas of development management which include financial management, human resources, project management, team building and performance management, and other programs on capacity-building in the public and private sectors. She assists in developing and designing training curricula and proposals, plans and prepares the budget and logistics, coordinates with resource persons and field experts and ensures the smooth conduct of trainings for the maximum satisfaction of training participants.
Prior to joining the Extension she worked with AIT's Infrastructure Office, as Coordinator for Auxiliary Services, since May 2005. Prior to joining AIT, she was a Lecturer at Bangkok University, an Assistant Professor at De La Salle Lipa University in the Philippines for 5 years, and Operations Manager for one of the leading appliance companies in the Philippines for 5 years. Mrs. Alcoba earned a Master's in Management Technology from De La Salle University, Lipa City, Philippines in 1997. She earned her Bachelors in Economics (Magna Cum Laude) from Colegio de San Juan de Letran, Philippines in 1994.