Tharakorn Chanlapa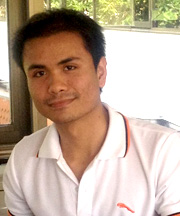 Position:
Program Officer
Department:
Information Technology & Engineering
Mr. Tharakorn Chanlapa is currently working as a program officer with the Information Technology & Engineering Unit, AIT Extension. His major responsibility is to assist in designing, developing and coordinating international training programs as well as designing curricula on short training courses in the field of Information Technology and Engineering. He has strong capabilities in preparing the budgets, logistics arrangements, and activities and also coordinates with resource persons and field experts.
Mr. Tharakorn Chanlapa obtained his Bachelor's Degree in Mechanical Engineering (1st class honors) from Ubon Ratchathani University, Ubon Ratchathani Thailand in 2009 and a Master's Degree in Energy (Energy Technology) from the Asian Institute of Technology (AIT), Thailand in 2012.