Chatchata Prasongsuk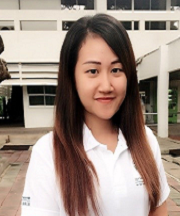 Position:
Program Officer
Department:
Education & Training Development
Ms. Chatchata is a Program Officer of Education and Training Development Unit, AIT Extension. Her responsibilities are to assist the Course Director in designing, developing, coordinating, and evaluating international training courses and exposure visit programs as well as facilitating day-to-day operations.
Prior to joining AIT Extension, she worked with AIT Student Affairs and Career Center for 6 years as an Admin Officer. She also worked as an English Language Tutor at Top Genius Academic Center during 2009-2011. In 2010, she was a student intern at AIT Extension.
Ms. Chatchata received her Bachelor of Arts (English for International Communication) and Master's Degree in Business Administration (International Business) from Rajamangala University of Technology Thanyaburi (RMUTT).