Dr. Somphoch Nophakoon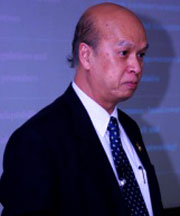 Dr. Somphoch had spent his career in the office of the Civil Service Commission (OCSC) for more than 25 years. He served as Deputy-Secretary General of OCSC from 2008-2010. Recently, he has been working as advisor for a public administration reform project of the Ministry of Energy, Government of Thailand.
He also was appointed as international consultant of Asian Development Bank to carry out Capacity Building of Civil Service Management in Viet Nam. During his time in OCSC, he joined various committees and sub-committees under the Thai Government to policies and strategies related to human resource management, good governance, reform programs and work ethics. Dr. Somphoch earned his Master Degree in Political Science from University of Delaware, USA and his PhD from University of Southern Mississippi, U.S.A.