Worawan Sumroetrum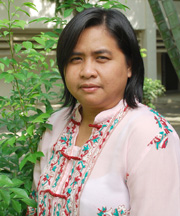 Position:
Senior Program Officer
Department:
Public Sector Capacity Building
Ms. Worawan is a Training Officer in AIT Extension. She is responsible for planning, management and execution of international training courses and activities. She first joined AIT in 1995, working as a research assistant in the Rural Regional Planning Workshop in School of Environment, Resources and Development (SERD). She joined the former Continuing Education Center in 2000, working initially as a Program Associate.
Ms. Worawan Sumroetrum holds a B.A. in English from Khon Kaen University (KKU) and a M.Ed. in English from Srinakarinwirot University (SWU) Prasanmit Campus in 1999.