Submitted by

admin

on Mon, 2010-02-01 15:52
1. Introduction
Conflict resolution and peace building are significant factors while transforming conflicts to a less fierce stage. The key is to have a comprehensive approach which endeavours to link conflict transformation to humanitarian aid and development cooperation. Thus, peace building must address the needs of the population in the conflict area, supporting sustainable socio-economic and ecological development as well as promoting culture, education and media.
Peace building activities are carried out by local and international experts in a conflict environment which is fuelled by prejudices, proneness to violence, inadequate supply systems (esp. food aid, health care, water and sanitation), and lack of infrastructure and refugee problems. These grievous conditions are always challenging to the implementers' social abilities. To work and strive in such an atmosphere with different ideologies and cultural backgrounds is not easy at all. 
Relevant professional capacity building trainings fundamentally assist to improve the qualifications and capability of a pool of personnel for such missions. The creation of a trained human resource is thus crucial for the governments, non-governmental organizations and other international organizations.
This training program aims to solidify preparing people who want to work in crisis areas ensuring the international and multidimensional character. The participants are expected to gain a sound understanding of their obligations as stewards of the governments, through engaging in case studies, field visits and other effective learning methodologies.
2. Course Objectives
This training programme will help MoPR by adhering to the following principles:
By the end of this course the participants will:
Able to prepare people who want to work in crisis areas
Simulate a positive fieldwork environment
Enhance greater knowledge by exposing to the Thai practices
Learn more about international and multidimensional character
Able to boost the personal commitment of the staff
3. Training Approach
The course will apply participatory approach. The facilitators will create an environment where participants will be able to explain their possible scenarios amongst themselves and the resource person. Participatory methods comprising discussions, group work, case study, and role play will be extensively used.
Each topic/key learning issue will be addressed using appropriate approaches, including case studies, and individual / group assignments.
Before joining the study visit programs, participants will be acquainted with scenarios in the field and the ways to explore issues through case analysis. AIT facilitators will guide the participants to reflect the situations to their own experiences, to ask relevant questions, and discuss critical points which can be used to enhance their knowledge.
Essentially, in the whole process, participants will gain substantive inputs from classroom sessions, professionals' views, group discussions and site visits which will largely enable them to reflect on learning.
4. List of Resource Persons and Facilitators
Dr. Gothom Arya
Director
Research Center for Peace Building
Mahidol University, Salaya Campus
Nakhon Pathom, Thailand
Email: dircoppb@mahidol.ac.th
Dr. Yukiko Nishikawa
Office of Human Rights and Social Development
Faculty of Graduate Studies
Mahidol University, Salaya Campus
Nakhon Pathom, Thailand
Email: nskw@hotmail.co.uk
Mr. Michael Lowe
Consultant
Lead Resource Person / Advisor
340 / 427 – 8 Block B, View Talay One
Thappraya Road, Jomtien Moo 12
Banglumung 20260, Chonburi
Email: michaelelowe@yahoo.com
Dr. Parichart Suwanbubbha
Deputy Director
Research Center for Peace Building
Mahidol University, Salaya Campus
Nakhon Pathom, Thailand
Dr. Kathryn Norsworthy
Professor / Licensed Psychologist
Rollins Graduate Studies in Counselling
Winter Park, FL 32804 USA
Email: knorsworthy@mac.com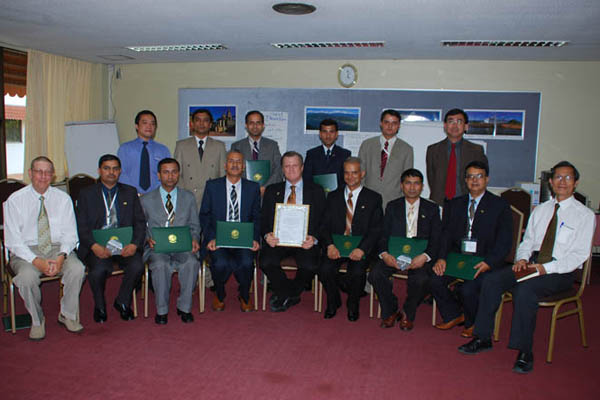 Ten Senior and Mid-Level Officials from Ministry of Peace and Reconstruction (MoPR), Nepal