Submitted by

admin

on Wed, 2010-02-17 19:21
Date:
25 January - 05 February 2010
Introduction
Public administration reform, performance management, and service delivery are continuing necessity in every society. Administration reform leads to a consciously planned activity of controlling the public administration of the country to meet its objectives proficiently.
Performance management includes activities to ensure that goals are consistently being met in an effective and efficient manner. Strong commitment and lots of hard work alone are not results. Hence, the main contribution of performance management should focus on achieving positive results.
Likewise, challenges in public service delivery are inevitable. To remain competent, truly representative, and to play a proper role in the reconstruction and development process is not an easy task. To fulfill this role effectively, the public service should focus on successful innovations in service delivery. The goal is to identify common factors across cases that explain why these innovations worked.
The Ministry of Establishment, Government of Bangladesh, is carrying out the MATT 2 (Managing At The Top 2) program in close collaboration with DFID. It is envisaged that the joint efforts will develop reformed human resource management systems within the Bangladesh Civil Service as an important structure to drive administrative reform.
MATT 2 aims to create a critical mass of reform-minded civil service top managers to help bringing fundamental improvements in the governance of Bangladesh.
This "Regional Exposure Visit Program on Public Administration Reform, Performance Management and Service Delivery" has been designed to draw lessons from best practices, which might help to improve public administration, performance management, and service delivery across sectors and facilitate the transplanting of success stories to other settings.
Objectives
By the end of the program the participants are expected to:
Identify specific key lessons from Thailand's experiences of reform process which are relevant to that of governance reforms in Bangladesh;
Learn how the lessons can be applied in strengthening forthcoming reform process and activities in Bangladesh;
Identify and select specific approaches/tools/techniques to apply in their Performance Improvement Projects (PIPs) and Individual Action Plans (IAPs)
Refine PIPs concept document and IAPs to carry out reform initiatives
Approach
The course will apply participatory approach. The facilitators will create an environment where participants will be able to share their knowledge amongst themselves and the resource person. Participatory methods comprising discussions, group work, case study, role play will be extensively used.
Each topic/key learning issue will be addressed using appropriate approaches, including case studies, individual assignments and (PIPs) group assignments.
Before joining the study visit programs, participants will be acquainted with scenarios in the field and the ways to explore issues through case analysis. AIT facilitators will guide the participants to reflect the situations to their own experiences, to ask relevant questions, and discuss critical points which can be used to improve the PIPs.
Essentially, the whole process of Regional Exposure Visit (REV) is a simulation of project management practice. In this process, participants will gain substantive inputs from classroom sessions, professionals' views, group discussions and site visits which will enable them to reflect on learning and further to refine the PIPs. Thus, at the resolving of the REV, participants will work in PIPs groups to refine the PIPs plan and prepare plans for action.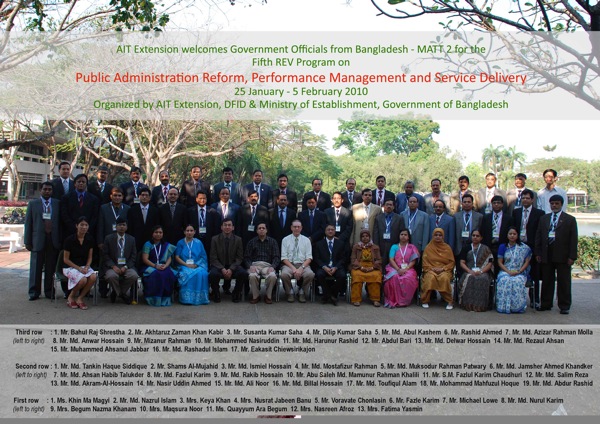 Forty three Senior Level Government Officials from Bangladesh - MATT 2 attended the fifth REV Program which was organized by AIT Extension in conjunction with the Department for International Development (DFID) and Ministry of Establishment, Government of the People's Republic of Bangladesh.