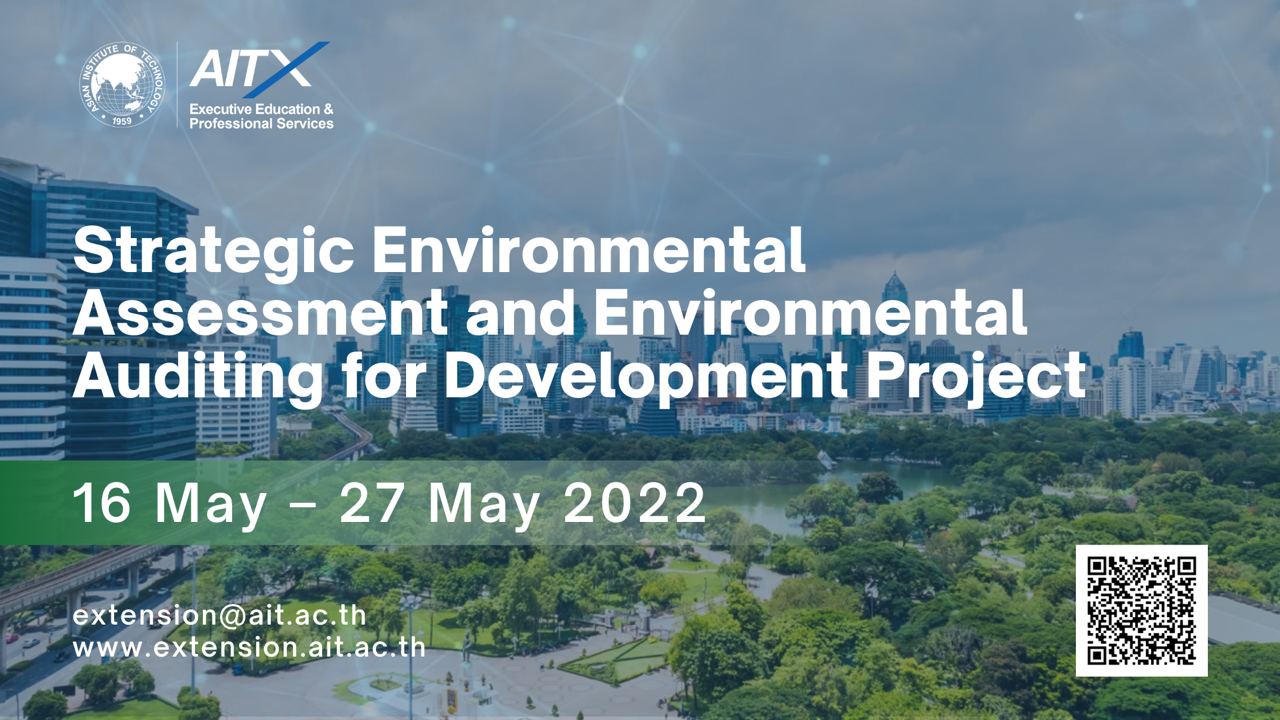 Strategic Environmental Assessment (SEA) is a set of analytical and participatory processes for incorporating environmental considerations, at early stages of a project. An effective SEA is going to have long-term social-economic benefits to people & natural ecosystems. SEA evaluates project's environmental, social and economic impacts at the highest strategic level. The scope is beyond the traditional EIA, which focus solely on physical environmental impacts.
Long term environmental impacts are often not given enough priority in infrastructure development projects. But now governments are required to provide valid environmental impact assessments prior to the approval of large-scale infrastructure projects. The enforcement of EIA & SEA are environmental safeguards for infrastructure and construction projects.
This one-week professional development training program on "Strategic Environmental Assessment and Auditing for Infrastructure Projects" is design to help the professionals learn about the EIA in the infrastructure context.  The aims at promoting the use of SEA as essential tools for supporting environmentally sustainable planning and economic development.
Objectives
The main objective of the professional development course is to provide the necessary tools and techniques to ensure sustainable economic development by ensuring proper implementation of EIA and Strategic Environmental Audit (SEA).
The specific objectives are to:
Enable participants for greater understanding & knowledge enhancement pertaining to EIA and SEA

Equip participants the need to balance economic and infrastructure development without harming the environment

Explain the critical methods & challenges for the implementation and follow up measures within the SEA process

Measures required for the monitoring and auditing of SEA process
Course Outline
The training course are the combinations of lectures, exercises and case studies. It provides theoretical and conceptual explanations to approaches, applications, legal frameworks and methodology of EIA & SEA. Exercises are going to be very useful on various aspects associated with the practical process, terminology, and methods of performing SEA. The key modules of the course are as follows:
Module 1:  Environmental Impact Assessment (EIA) & Auditing
Understanding Environmental Impact assessment

The EIA and EA in the project cycle

Building an effective EIA & environmental auditing (EA)
Module 2:  Introduction to Strategic Environmental Assessment 
Aim and scope of SEA, major trends & challenges

Steps and elements of the SEA process, emerging directions 

Principles of environmental good practices
Module 3:  Environmental Management Systems Implementation 
Environmental management systems models & process

Environmental inspection and reporting 

Sustainable infrastructure implementation 
Module 4:  ISO 14001 Environmental Management System
Overview of ISO 14001 – guidance of use

ISO 14001 to future proof for infrastructure projects

The process to get certified to the ISO 14001
Target Audience
The participants can be from different governmental and donor agencies, multi-lateral banks, INGOs as well as academic institutions and universities who seek to broaden their knowledge in the area of strategic environmental assessment and environmental auditing. It is also a very appropriate course for those who are responsible for assessment and auditing of environment impacts.