Submitted by

admin

on Sat, 2010-03-20 20:27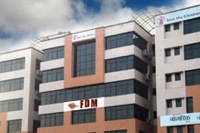 AIT Extension has opened its new Representative Office in Kathmandu, Nepal. The Nepal Representative Office will contribute to AIT Extension's expanding professional education services in Nepal. 
The recent agreement between AIT and Foundation for Development Management (FDM) has enabled AIT Extension to set up the AITE Representative Office on the premises of FDM in Kathmandu. This initiative signals AIT Extension's willingness to expand its regional presence, and reach and assist more organizations around the region. 
The Representative Office which is located at JDA Complex (Level II), Bagh Durbar, Kathmandu is managed by Dr. Shailendra Sigdel, former Senior Program Specialist with AIT Extension. Dr. Sigdel was appointed AIT Extension Country Representative for Nepal in November 2008. 
The Nepal Representative Office will design and implement capacity building and professional development programs for public, private and NGO sectors in Nepal and in Thailand. Courses on banking risk management for senior executives of different financial institutions in Nepal are already planned for May 2010 (in collaboration with the Development Bankers Association of Nepal). Likewise, a professional development course on result-based management will be organized in May 2010 in collaboration with Nepal Engineers Association. The office will also coordinate implementation of recently signed Memoranda of Understanding with the Nepal Bank Training Institute, the Nepal Administrative Staff College, and the South Asian Institute of Management. 
For more information about Foundation for Development Management (FDM) and its mission to contribute to development, please visit www.fdm.com.np
Address
Nepal Representative Office
Contact Person
Dr. Sailendra Sigdel
Country Representative
AIT Extension
Foundation for Development Management (FDM)
JDA Complex
Level II
Bagh Durbar, Kathmandu
Nepal
Tel: 977 98510 34384
      977 98511 01992
      977 1 6214186
Email: shailendra@ait.ac.th
           shailendra.sigdel@gmail.com