Submitted by

admin

on Mon, 2011-01-24 17:45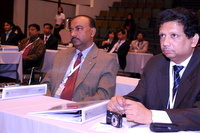 AIT Extension, in conjunction with the Department for International Development (DFID) and Ministry of Establishment, Government of the People's Republic of Bangladesh is hosting a 39-member delegation of senior officials from Bangladesh including 3 facilitators from Bangladesh Public Administration Training Center (BPATC) for a specialized 2 weeks program on "Public Administration Reform, Performance Management and Service Delivery" (24 Jan – 04 Feb, 2011).
This Regional Exposure Visit (REV) follows the completion of 7th similar REV programs developed for the Bangladeshi Senior Civil Administrators under the program called Managing At The Top 2 (MATT2). The training is expected to provide substantive benefits to the clients of these Civil Administrators.