Submitted by

admin

on Fri, 2011-03-04 11:32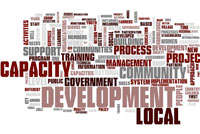 The Public Sector Capacity Building Unit (PSCB) of AIT Extension has been serving as a focal institute for the UNDP-Bangladesh's Upazila Support Project  (USP) to conduct various capacity development programs in Thailand.  The upcoming capacity development activity is the third series of the program that aims to enrich knowledge and broaden perspectives of local government officials on practical approaches used for assessing impacts on poverty reduction programs and MDGs.
In addition, the program also provides an opportunity for the officials to identify appropriate management practices from Thailand that help achieving mandates and thus develop project implementation of their Upazila. 
For more details pls contact Mr. Voravate Chonlasin