Submitted by

admin

on Tue, 2011-03-15 01:37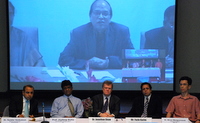 Professional Master's in Banking and Finance (PMBF), a program jointly offered by the Asian Institute of Technology (AIT) and the University of Applied Sciences Northwestern (FNHW), Switzerland was formally launched at the Asian Institute of Technology (AIT) on 14 March 2011.
The first batch of 21 bankers participated in the inaugural function held at Milton E. Bender Jr. Auditorium at AIT. All participants are from Bangladesh Bank, the central bank of Bangladesh.
Delivering the welcome address via a teleconference, Dr. Atiur Rahman, Governor, Bangladesh Bank remarked that the program would help the young bankers emerge as future leaders. "AIT is a world class institute and this program would contribute towards our aim of ensuring that Bangladesh Bank becomes a world class bank," Dr. Rahman said. He added that the program participants had been selected on a competitive basis, and that this was the first time that the Bank had sent participants for a Professional Master's program.
Prof. Joydeep Dutta, Vice President for Academic Affairs traced the evolution of the Professional Master's programs at AIT. Professional courses are changing the way we look at education, Prof. Dutta remarked, while stating that it is challenging to teach professionals who already possess considerable knowledge and expertise. "Bankers need not travel to Switzerland to study, as AIT provides the same quality here in Thailand," he said, while formally announcing the launch of the program.
Dr. Jonathan Shaw, Director, AIT Extension, while welcoming the participants, said " the collaboration between AIT and Switzerland on management development is two decades old, when AIT and the Swiss Agency for Development launched a capacity building program for Vietnamese universities." Dr. Sundar Venkatesh, Advisor to Director, AIT Extension, stated that all participants are professionals and the program provide a blend of management and banking. Next batches will include participants from commercial banks and financial institutions as well, he added. Dr Winai Wongsurawat welcomed the participants on behalf the Dean of School of Management. The program is being offered jointly by AIT Extension and AIT's School of Management, along with FNHW. Mr. Fazle Karim,Head, Information Technology and Engineering at AIT Extension, delivered the vote of thanks. Mr. Murshid Kuli Khan, Deputy Governor of Bangladesh Bank, and Ms. Nazneen Sultana, executive director, Bangladesh Bank, also participated in the teleconference.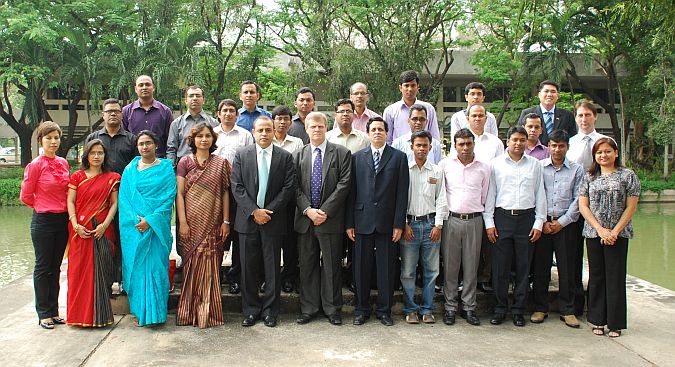 (Source: AIT News)