Submitted by

admin

on Tue, 2011-05-17 11:37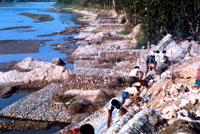 AIT Extension, in close collaboration with Center for Participatory Irrigation Management (CPIM), Vietnam Academy for Water Resources, the Socialist Republic of Vietnam is organizing a regional study visit program on "Irrigation System Management (15 – 26 May, 2011)" for twenty-two engineers and project staff from Irrigation and Water Resources Management Project (IWRMP), Department of Irrigation, Government of Nepal.
This two-week multi-country study visit program is being organized in Thailand and Vietnam. The main purpose of this program is to enrich knowledge of the engineers and project staff on appropriate approaches, theoretical concepts vis-à-vis technical and managerial substances that they can apply in the field. Moreover, the participants will have exposure to actual applications, problems/challenges and alternative solutions that could be adopted in the Nepalese context. The World Bank funds the project.