Submitted by

admin

on Tue, 2011-11-29 11:46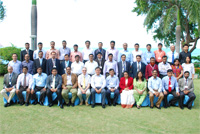 AIT Extension, in partnership with the Department for International Development (DFID) and Ministry of Public Administration, People's Republic of Bangladesh is hosting a 37-member delegation of senior officials from Bangladesh including 2 facilitators from Bangladesh Public Administration Training Center (BPATC) for a specialized 2 weeks program on "Public Administration Reform, Performance Management and Service Delivery" (28 Nov – 10 Dec, 2011). The training program is being held at Asia Pattaya Hotel, Pattaya City, Thailand.
This Regional Exposure Visit (REV) follows the completion of 9th similar REV programs developed for the Bangladeshi Senior Civil Administrators under the program called "Managing At The Top 2" (MATT2). The program has been designed to draw lessons from best practices, which might help to improve public administration, performance management, and service delivery across sectors and facilitate the transplanting of success stories to other settings.
For more information please contact Mr. Voravate Chonlasin