Submitted by

admin

on Thu, 2012-01-26 12:54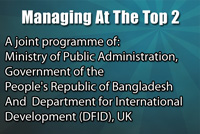 AIT Extension, in partnership with the Department for International Development (DFID) and Ministry of Public Administration, People's Republic of Bangladesh is hosting a 44-member delegation of senior officials from Bangladesh including 2 facilitators from Bangladesh Public Administration Training Center (BPATC) for a 2 weeks program on "Public Administration Reform, Performance Management and Service Delivery" (23 Jan – 03 Feb, 2012). The training program is being held at Bangkok, Thailand.
This Regional Exposure Visit (REV) follows the completion of 10th similar REV programs developed for the Bangladeshi Senior Civil Administrators under the program called "Managing At The Top 2" (MATT2). After the completion of REV program the participants will be assigned to implement their"Performance Improvement Projects"(PIP) in their respective areas. There are altogether eight PIP topics within this group. Some of the examples are: reducing industrial pollution; optimal use of the facilities of the union information & service center; protecting the environment of the lake; improving local environment by producing bio-fertilizer from waste; establishing an effective mini-clinic; reducing health hazards from mosquito; and developing a databank for the autistic resource center etc.
Overall, the program has been designed to draw lessons from best practices in Thailand, which might help to improve public administration, performance management, and service delivery across sectors and facilitate the transplanting of success stories to other settings.
For more information please contact Mr. Voravate Chonlasin