Submitted by

admin

on Thu, 2012-06-28 09:30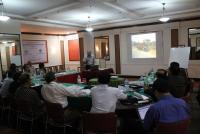 AIT Extension in conjunction with Nepal Engineering College (NEC) is organizing a two weeks seminar and study visit program on "Participatory Integrated Water Resource Management" (18 – 29 Jun 2012) in Kathmandu, Nepal. 12 Engineers and water professionals from Bangladesh Water Development Board, Bangladesh is attending the program in Kathmandu. Mr. Dipak Gyawali, former Minister of Water Resources, Nepal took the first day of the session, which was much appreciated by the participants.
The overall aim of the course is to develop growth and need for Integrated Water Resources Management (IWRM) using the concept in approaching sustainable water resources development agenda. After the completion of the program, participants are expected to: develop understanding on the multi-dimensional characteristics of water resources and the need for multifaceted outlook in pursuing integrated water resources management; develop appreciation on the concept of IWRM and its value in water resources planning, management and decision-making; and develop skills on identifying, formulating and analyzing management problems in water resources systems especially in the context of IWRM. Field visits to distinctive districts outside the Kathmandu valley has also been arranged for understanding the dynamics of irrigated agricultural system in a large river valley environment, water sharing arrangement, conflict and people's response to the management of ecosystem services.