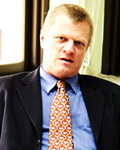 AIT's vision is to be Asia's knowledge center and thought leader in technological innovation for development to foster the emergence of a vibrant, prosperous Asia leading the world in innovative responses to the greatest challenges of the 21st century: global climate change and poverty. The Institute enjoys an international reputation based on the demonstrated value of its work and its dedication to applying academic skills to the great challenges facing the region. The Institute exists to advance our partners' understanding of global changes and the impact of those changes in Asia, and to influence and enable development for the better.
In 2009, AIT celebrated its Golden Jubilee. At an event in Bangkok to mark the event, Nobel Peace Prize Laureate Muhammad Yunus described his latest project – micro credit for beggars. He has already shown that lending tiny amounts to Bangladesh's beggars can be good business, with repayment rates approaching 100%. This counter-intuitive business initiative is characteristic of the unconventional approaches to solving problems that Yunus has espoused. AIT is proud to announce that we will be partnering with Muhammad Yunus in a unique venture, the Yunus Center at AIT, which aims to provide an experimental incubator for such unconventional ideas. With CSR Asia, Asia's leading thinkers on Corporate Social Responsibility, AIT has started the CSR Asia Center at AIT, which will offer a unique Executive Masters Program in CSR. A third center, the ASEAN Regional Center for Millennium Development Goals, will focus on increasing the Institute's contributions to achieving MDGs 1, 3, 7 and 8.
AIT Extension is working closely with all three of these centers to expand AIT's capacity to achieve its vision. As the continuing professional education center of the Institute, we are responsible for the delivery of short courses to a wide array of capacity building projects in different sectors. For example, we are working closely with the World Bank and Asian Development Bank-funded Punjab Resource Management Program to build the capacity of technical staff working in several departments of the Government of the Punjab. We are working with two central banks, Nepal Rastra Bank and the Bangladesh Bank, to build capacity at different levels. We are working closely with ADB-funded secondary education sector development projects to build IT and school management capacity in Sri Lanka. And we are part of AIT's efforts to renew the Faculty of Engineering at Balkh University in Afghanistan.
But professional education is more than just short courses, and encompasses much more than ODA-funded work. With colleagues in the AIT Schools, we are exploring how courses in professional degree programs can be modularized, with modules offered as stand alone courses. And, thinking the other way round, how short courses might be credited towards degree programs. There is tremendous scope for increasing AIT's reach in this way.
We look forward to continuing to serve the capacity-building needs of your organization and your country.